QUALITY AND ENVIRONMENT

For us, quality is not just a means to an end, but is always at the centre of our actions and our pursuit of improved performance.
WE ALWAYS DELIVER BEST QUALITY
QUALITY PLANNING
Customer-specific quality requirements
determine our quality objectives.
QUALITY MANAGEMENT
Continuous controlling of the defined quality targets during production.
Exact measuring of the final products after completion by specially trained personnel.
Packaging and delivery after approval.
QUALITY CONTROL
Control cycle for optimization of the production process
DATA SHEET
A data sheet is available for each product.
MEASURING
Inline measurement of the tubes inner and outer diameters
during production.
In addition, random measurements by hand with measuring
mandrels or sliding callipers.
Up to 3.000,0 mm, the length is checked with special digital length measuring devices.
QUALITY PROMISE
We generally use top-quality materials from leading manufacturers.
Green label Certificate of appreciation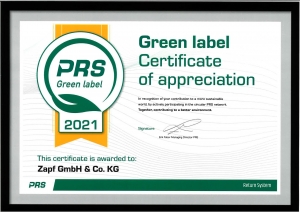 We have received the PRS Green Label 2021!
We are thus actively contributing to the circular pallet reuse system. We are pleased about this certificate, because the sustainable and resource-saving reuse of PRS pallets is an important contribution to improving our environment.
For further information please visit: https://www.prs-pooling.com